Great Scenic Railway Journeys — V&T Segment on Youtube
Did you know the Virginia & Truckee has been featured on the PBS Emmy award winning TV show Great Scenic Railway Journeys? This video features Stephen Drew, foremost V&T history expert and (retired) Curator of the California State Railroad Museum at Old Sacramento. Mr. Drew now is involved with the V&T Railroad Historical Society where you can purchase his books detailing V&T history.
Be sure to check out the GSRJ video above at 1:30. You'll see Stephen Drew introduce a great photograph from V&T founder Robert Gray. Robert Gray, as a teenager in 1938, rode on the last Virginia & Truckee railfan train to Virginia City!
V&T General Manager Tom Gray provided this photo and description from the GSRJ shoot: "Robert Van Camp searches and shoots the wild mustangs along the historic V&T right of way in American Flat, Nevada, for the Great Scenic Railway Journeys, an Emmy award winning show for PBS public television."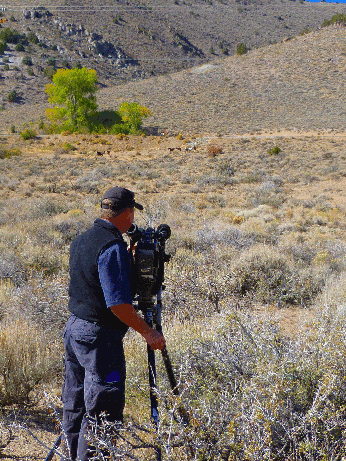 Photographer's Specials
March 15, 2010 — First Annual TTI Special Event
The V&T Railroad also a ran Photographer's Special with Trains and Travel, International. The following video documents the photographer's special from March 15, 2010. This embed shows part 3 of a series, if you like it, be sure to watch parts 1 and 2. I started at 4am at the V&T engine house following Fireman Ed Gallegos. In part 3 I show several runbys of the #29 steam locomotive. The video ends with a slideshow of photos I took that day.
(as with all the older videos videos on the unoffical V&T Youtube fan channel, any political or other commentary reflects the channel owner's views and not necessarily the V&T Railroad's management!)
Freight Special
There has also been photographer's freight special, if I can get photos or video I'll post it.
To ride the V&T please check out our regular round trip trains from Virginia City to Gold Hill and our special theme trains.